Bristol Parkway Place - LOCATION
Business
Bristol is nestled at the upscale section of the master-planned urban center, Filinvest City, the premier CBD and garden city. Top local and multi-national companies made Filinvest City their home for its world-class facilities, possibilities and promise. Neighboring exclusive subdivision and a business-related park are just within the vicinity.
Leisure
Bristol is just a block away from the exclusive Palms Country Club, providing you access to a world of play and recreation available only to a limited few. A few steps away is a driving range which further makes up for an active lifestyle.
Shopping
Bristol provides a convenient access to Festival Supermall's River Park, inspired by the romantic Venetian gondola experience by the living creek leading to the south metro's largest lifestyle and entertainment retail district accentuated by a myriad of al-fresco dining choices.
Schools
Schools like De La Salle Zobel, Paref Woodrose School, Paref Southridge School and San Beda College Alabang are within easy reach.
Hospitals and other essential services
The world-class Asian Hospital is just nearby, along with a direct access via Skyway, SLEX, Alabang-Zapote Road, Daang Hari and other thoroughfares that lead to Makati, Laguna, Cavite and Manila. Further, as part of Filinvest City, 24/7 estate security and emergency response systems are inherent.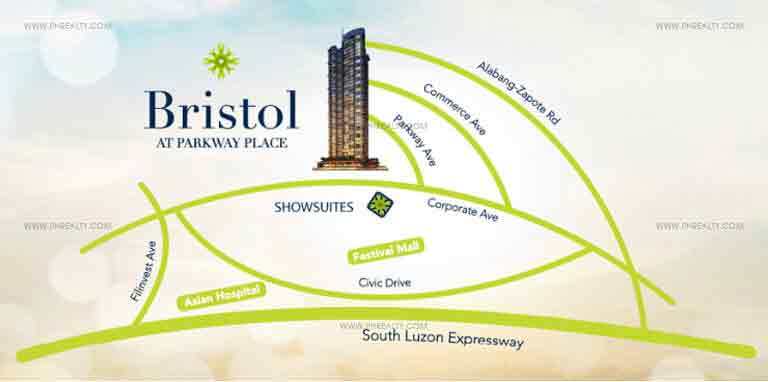 Bristol at Parkway Place is less than a kilometer away from the South Luzon Expressway, while offering all the benefits, practicalities, conveniences and luxuries that come being situated in one of the more stylish and upscale neighbourhoods south of the metropolis. Its privileged location at the corner of Corporate Avenue and Parkway Avenue (also known as the Millionaires Row) grants its residents a prestigious corner address. This comes with easy access to shopping, dining and leisure facilities, while living in a tranquil and peaceful environment cloistered away from the daily hustle and bustle of city life.
There is a convenient link to Festival Supermall's River Park: the south metro's largest lifestyle and entertainment retail district with a wide variety of al-fresco dining choices, in a Venetian ambience inspired by the romance of Venetian gondolas. Other shopping, leisure and entertainment hubs are also readily accessible. This includes the South Supermarket, Metropolis Mall, Wesgate Center and Alabang Town Center, Starmall Alabang and the Palms Country Club and Leisure Center.
There are several prominent schools in the vicinity that provide a variety of educational opportunities: Brentville International School, Southville International School and Colleges, San Beda College, Paref Southridge School, Paref Woodrose School and De La Salle Zobel. There are also several 24/7 reputable hospitals in the neighbourhood, which can attend to any medical emergency in short notice: Hillside General Hospital, Ospital ng Mutinlupa and Alabang Medical Center and Asian Hospital.
Residents will also reap the benefits of being located within Filinvest City, a world-class central business district south of Metro Manila (also known as the 'CBD of the South') that dates back to 1995, when Filinvest Group founder Andrew Gotianun, Sr. began developing a 244-hectare lot in Alabang. Filinvest City also boasts a unique "green spine" in the form of the Spectrum Midway Linear Park. With foliage-canopied walkways across the southern and northern ends of the township, residents benefit from green walkways that provide easy navigation around the city. The addition of bike lanes and bike parking sites will also encourage a more active and eco-friendly lifestyle, while reducing congestion.
Filinvest Alabang Inc. executive vice president Catherine Ilagan notes the progress that the city has made over the years: "Back then, Alabang was known as a bedroom community and was not considered for urban development. Now, Filinvest City is regarded as a prime urban development in Metro Manila." It has enjoyed continuous growth as a master-planned township, with more multi-use developments, office structures and residential projects joining the fold over the years.
Its primary shopping mall, Festival Wall, has recently grown from the completion of a new wing, gaining 150,000 additional square meters in retail space. The mall will be home to a four-story Landmark Department Store, and will gain bragging rights as the country's biggest regional mall when it offers visitors a total of 321,768 square meters of retail and dining options.
Notable Filinvest City residents such as Filinvest's own Crimson Hotel, Palms Country Club, Insular Life, Bellevue Hotel, and the Northgate Cyberzone (Filinvest's 24/7 IT Campus, a PEZE registered Econozone that is home to various business process outsourcing (BPO) companies) will gain new neighbours when the south campus of Far Eastern University and the new office towers of Polaris and Capella are completed. Filinvest will also complete two more anchor projects in the coming three years: Botanika Nature Residences Tower 1 and Parkway Corporate Center (a new iconic office condominium structure).